This week we had a question about the phonogram IE, the /ē/ of field. Why, someone asked, don't we also list the long I sound as in pie?
Great question! I remember wondering about this when I was first learning the phonograms and rules.
First: what exactly is a phonogram again?
As a reminder, or for those new to Logic of English: a phonogram is a letter or group of letters used in a language's writing system to represent a sound (phono - sound, and gram - picture). Phonograms may represent only one sound (l as in love, v as in victory) or more than one (a as in mat, table, and water, c as in circus). And they may contain one, two, three, or four letters: a, ch, tch, ough.
A phonogram is different from a blend, which contains two letters saying their own sounds: fl, nd, st. The words flip, sand, and stop all contain four separate sounds and four phonograms. The word thee contains two sounds and two phonograms (th and ee).
And, importantly for the question at hand, the same group of letters may function sometimes as individual phonograms, each saying their own sounds, and sometimes as a multi-letter phonogram, working together to make a different sound. Compare:
reality — E and A work separately to say /ē/ and /ă/
real — they work together as one phonogram to say /ē/
warthog — T and H work separately to say /t/ and /h/
wither — they work together as one phonogram to say /th/
quiet — I and E work separately to say /ī/ and /ĕ/
field — they work together as one phonogram to say /ē/
Now, for these words like PIE.
In English there is a small number of short words in which a long I sound at the end is spelled I+E. Only five of them are in common usage. They are:
die
lie
pie
tie
vie
Two are less common:
fie
hie
At Logic of English, we teach these as silent E words (similar to words like true and blue). Both I and U can say their long sound at the end of a syllable (Spelling Rules 4 and 5), but they are not used at the end of English words (Spelling Rule 3 - except the very old exceptions you, I, and thou). So an E is added after them at the end of the word.
Viewing the base words ending in I+E as silent E words also fits with the fact that the E drops out before vowel suffixes, just as with other silent E words (Spelling Rule 13):
lie + ar = liar
die + ed = died
While we do have this small handful of words using the I+E spelling, most English one-syllable words ending in the long I sound are spelled with a Y:
cry
dry
fly
fry
ply
pry
shy
sky
sly
spry
spy
sty
try
why
wry
Y can also say long I at the end of multi-syllable words like deny, multiply, verify, and awry.
So while it is possible for a long I at the end of a word to be spelled I+E, and this does follow the spelling rules, in English we use this spelling only a very small percentage of the time.
I + Suffix
The other place where we find I + E saying long I is when we add suffixes after an I.
When we add a suffix that begins with E after a base word ending in I+E, the spelling is retained: died, pies, tied, etc.
Something similar happens after Y saying I. Spelling Rule 15: Single-vowel Y changes to I when adding any ending, unless the ending begins with I. In these words, the long I sound is retained even though the spelling changes. Following Spelling Rule 21, we add -ES to form a plural if the word changes.
try + es = tries
fry + ed = fried
but
try + ing = trying
fry + ing= frying
As I was analyzing words and thinking through the question, I did a search for four-letter words with IE in the middle, so that I could compare some words with an added suffix to words with IE that did not include a suffix. (If you've never seen it, MoreWords.com is a great tool for this.) The pronunciation pattern is quite consistent: if the E is part of a suffix, the word has an /ī/ sound. When it isn't, and IE is part of the root word, it says /ē/.
Suffixes -ES and -ED
died
dies
hied
hies
lied
lies
pied
pies
tied
ties
vied
vies
Phonogram IE
bier
fief
lief
lien
mien
pier
tier
In Conclusion...
There are some words in which we see I+E making a long I sound. So one could reasonably teach /ī/ as an additional sound of the phonogram IE.
We don't use this approach at Logic of English, though, because we think it would create more confusion for reading than it solved, given that other explanations are available. These letters only say this sound in five common base words, all of which can be explained by silent E, and the other cases are explained by the suffixing rules.
IE says /ē/, on the other hand, in hundreds of words in addition to those listed above. Here are some of the shorter ones: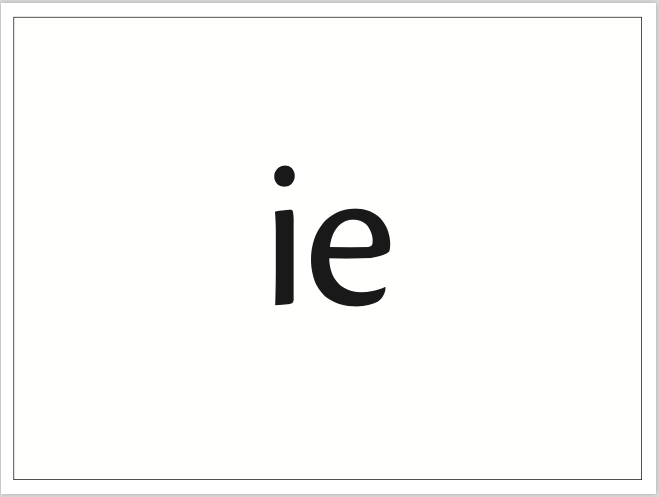 baddie
biggie
brie
brief
chief
cookie
cutie
field
genie
grief
liege
movie
niece
piece
priest
rookie
shield
siege
thief
veggie
wield
yield
yuppie
And when a noun ends in a Y that says /ē/, the pronunciation is still /ē/ in the plural when we change the Y to I and add ES:
baby + es = babies
party + es = parties
puppy + es = puppies
lily + es = lilies
So for students it's helpful to know that unless the E and I are functioning separately, such as an I followed by a silent E at the end of a few specific short words or an E added in a suffix after I where long /ī/ was heard in the base word, it's likely the phonogram IE saying /ē/ as in field.
I hope this helps! Thanks for the question!
Liz